Free Instagram Bot
Get more Instagram followers
Get more Interactions and exposure
Grow your brand on Instagram
Android 7.0 and above
Inspro is a free Instagram bot for followers and likes
Download the APK and get instagram followers and free insta likes by using auto like, auto follow, auto like comment, auto watch story to increase your instagram followers easy safe and free!

Everything is Automated!
Choose your target audience, fill your Whitelist or Blacklist if needed, hit 'Run' and let Inspro get you real Instagram followers and likes for free!
Join Thousands of Influencers, Marketing Managers and Businesses which enjoys daily real followers increase
✓ 2 clicks setup
✓ Full control
✓ Safe to use
"I WAS ABLE TO GET RELAVANT FOLLOWERS WHICH LOVED MY CONTENT, DOUBLING MY PAGE IN A COUPLE OF WEEKS AND INCREASING PURCHASES!"
Amit Bitan, Treepo Marketplace© CMO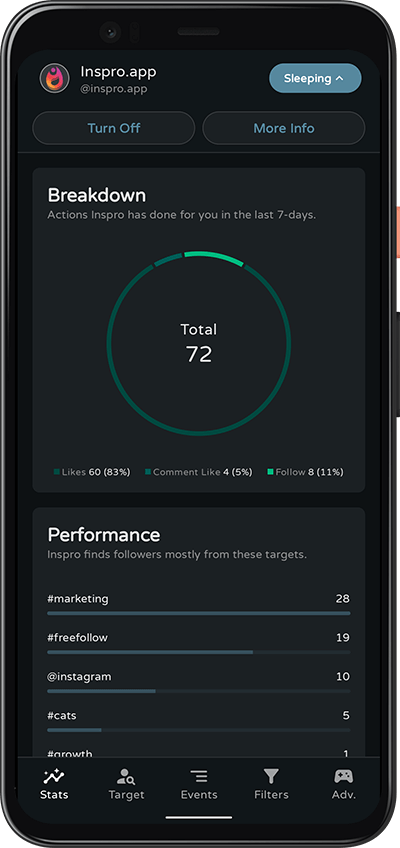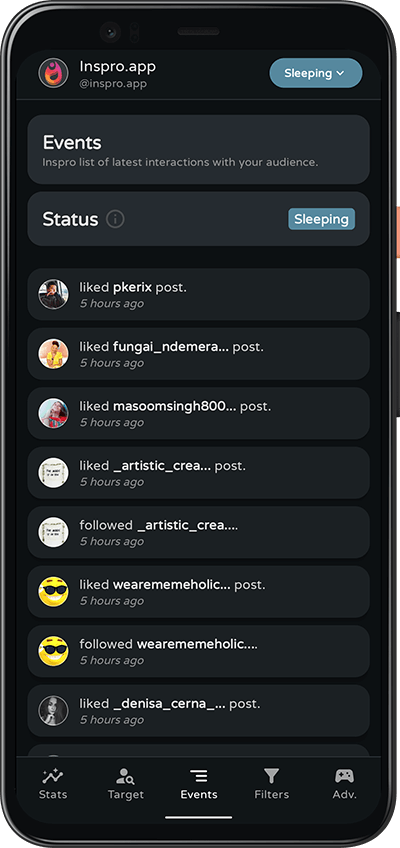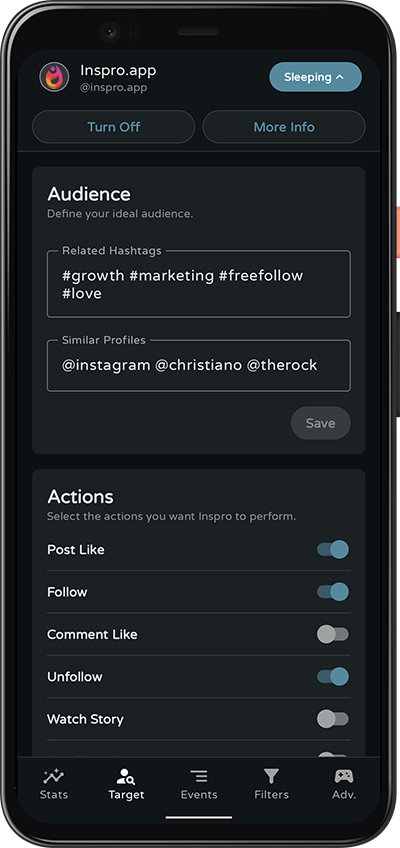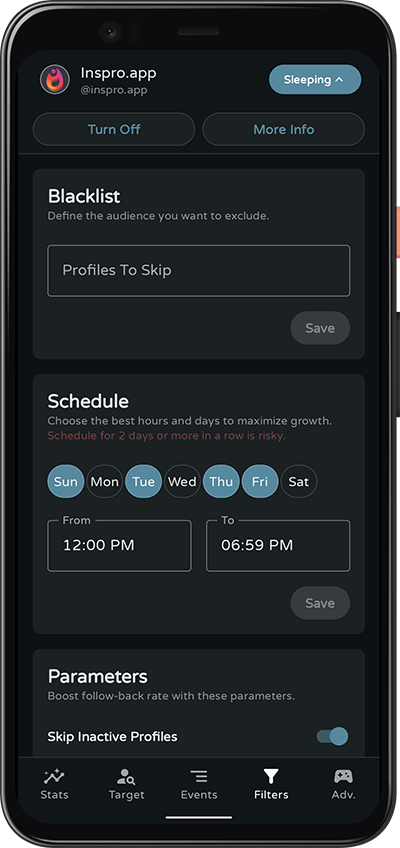 Getting more followers, likes and engagement for your Instagram is easy with our unique features:
🎯 Advanced Targeting
Choose what type of people you want. Decide on tags and account types. combine with our AI algorithms filter only the most relavant audience. Auto Like, Auto Follow, Auto Like Comment, Auto Unfollow, Auto Watch Story, Auto Like Reaction and much more!
🚀 Real People, Real Growth
This is NOT like buying fake followers. With Inspro you get a free instagram bot that interact with real people which will be exposed to your page and stay for long.
🔒 Safest Solution
Your privacy and account safety matters to us. With our free instagram bot we chose a solution that will not transfer ANY information back to us and adheres to all Instagram rules and limits. Your profiles and actions stays private between you and them.
🏆 Automation to Success
Inspro is doing the hard work for you, just decide who and what and let the free instagram bot App do the hard work, even while you asleep!
How It Works?
Download Inspro
Download the free version or try the premium for full force🚀
Choose Audience
Pick relavant tags and the type of people you wish to target.
Account Growth
More followers, more interactions and bigger audience for your brand.
Choose what fit your needs, in one simple solution:
$0
/mo
limited features
✓ Quick and easy setup
✓ 100% organic growth
✓ Instagram compliance
✓ 1 profile
✓ Up to 6 hours a day
✓ Up to 4 days a week
✓ Auto Like
✓ Auto Follow
✓ Auto Like Comment
✓ Influencers filter
✓ Auto Unfollow
✓ Auto Watch Story
✓ Auto Live Reaction
✓ Advanced control
✓ Smart target filters
✓ Technical Support
$12
/mo
Billed per 3 months
✓ Quick and easy setup
✓ 100% organic growth
✓ Instagram compliance
✓ Up to 5 profiles
✓ Unlimited hours
✓ Unlimited days
✓ Auto Like
✓ Auto Follow
✓ Auto Like Comment
✓ Auto Unfollow
✓ Auto Watch Story
✓ Auto Live Reaction
✓ Technical Support
✓ Influencers filter
✓ Advanced control
✓ Smart target filters
$8
/mo
Billed Annually
✓ Quick and easy setup
✓ 100% organic growth
✓ Instagram compliance
✓ Up to 5 profiles
✓ Unlimited hours
✓ Unlimited days
✓ Auto Like
✓ Auto Follow
✓ Auto Like Comment
✓ Auto Unfollow
✓ Auto Watch Story
✓ Auto Live Reaction
✓ Technical Support
✓ Influencers filter
✓ Advanced control
✓ Smart target filters
Download Inspro Today
and start growing your Instagram account